The rivalry between Logan Paul and Ricochet escalated to unprecedented heights as the two engaged in a heated backstage brawl following WWE Money in the Bank.
The animosity between Paul and Ricochet began to unfold when fate brought them together at the Royal Rumble 2023, resulting in a viral moment.
Check out the video below:
Their paths crossed once again at Money in the Bank, where Ricochet executed a daring Spanish Fly maneuver, sending 'The Maverick' crashing through two ringside tables.
Although neither competitor emerged victorious in their pursuit of the coveted Money in the Bank briefcase, their rivalry refused to be contained within the ring. The intensity spilled over backstage, as captured in a compelling video aired on Monday Night RAW.
Check out the backstage brawl video here:
The backstage brawl between Logan Paul and Ricochet was executed with such intensity and realism that it left fans questioning its authenticity. While WWE is known for its scripted and choreographed entertainment, this particular altercation appeared to blur the lines between reality and performance.
One fan remarked:
"why does it lowkey look real?"
Another fan wrote:
"Jeez that looked real."
While another fan stated:
"Dude I thought that was real."
Check out some more reactions below: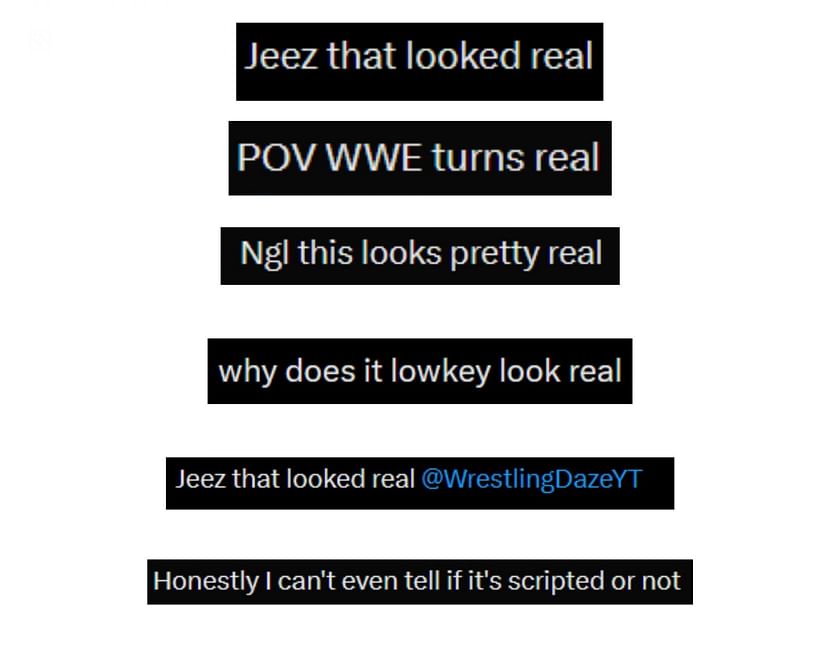 ---
Logan Paul calls out Paddy Pimblett for UFC debut on Elon Musk vs Mark Zuckerberg undercard
Logan Paul expressed his keen interest in participating in the highly anticipated Elon Musk vs. Mark Zuckerberg card, should such an event come to fruition.
The YouTuber-turned-WWE-star revealed that he believes it wouldn't be a challenge to negotiate a contract for him to compete on the same card, going as far as stating that he would be willing to fight for free. Paul's long-standing desire to step into the UFC octagon has been widely known, and when asked about his preferred opponent for the undercard of the hypothetical battle of the tech moguls, 'The Maverick' didn't hesitate to mention rising star Paddy Pimblett as a potential adversary.
During a recent episode of IMPAULSIVE podcast, Logan Paul remarked:
"If Elon Musk and Zuckerberg fight, I will do my UFC debut on the undercard for free. I'll fight for free for charity."
He added:
"You know I want to fight actually because that b*tch a** Andrew Tate won't fight me, give me Paddy Pimblett. Give me Paddy 'The Baddy'."
Check out Paul's comments below:

#Logan #Paul #Ricochet #trade #real #blows #intense #backstage #brawl #WWE #Money #Bank