Grant Williams has found a new team after it was confirmed by ESPN's Adrian Wojnarowski that the forward has signed with the Dallas Mavericks. Williams and the Mavs agreed to a four-year, $53 million sign-and-trade deal that will send the Boston Celtics forward to Dallas, playing alongside Kyrie Irving and Luka Doncic.
Williams was a restricted free agent. The 6-foot-6 forward had a significant role in Boston, where he was assigned to guard the opposing team's best player. Additionally, he's a decent shooter from beyond the arc and has proven to be a good offensive weapon at times.
•
Following this report, fans shared their reactions on social media. Here are some of the best.
The trade will also involve the San Antonio Spurs, who will receive Reggie Bullock and an unprotected pick swap in 2030 from the Mavs. The Celtics will receive multiple second-round picks from the two squads.
Williams didn't have an outstanding season, statistically. He only averaged 8.1 points, 4.6 rebounds and 1.7 assists last season.
Still, even with those numbers, he proved to be a valuable member of the Celtics. He helped Marcus Smart giving the Celtics a great perimeter defense. He's also turned things around for Boston on the offensive end by being a consistent spot-up shooter from deep, making 39.5% of his attempts from 3-point range.
You might also be interested in reading this: Boston Celtics rookie gets hilariously roasted by Grant Williams – "He told me I was built like a bug"
---
The Boston Celtics are weaker defensively after trading Grant Williams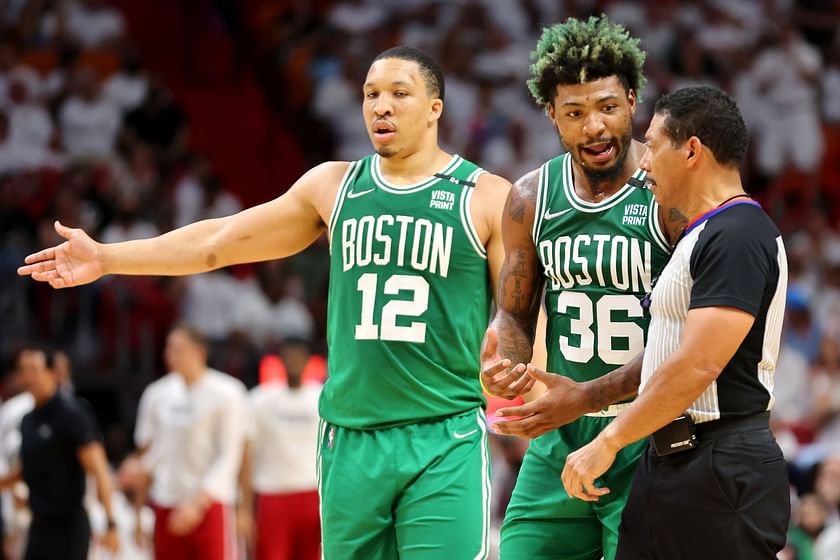 The Celtics are looking for a change as they head towards the 2023-24 season with a slightly new-look roster. During the offseason, they traded Marcus Smart, who's been the heart and soul of the team since he was drafted in 2014. Aside from the leadership qualities he holds, his defense was a huge part of how Boston has been able to be a consistent contender.
One wasn't enough as they also traded away Grant Williams. Both players have had significant roles on the defensive end, which has helped the Celtics stars to focus more on making the offense work. With this move, there are some who have speculated that the Celtics are eyeing to sign another star.
It's still unsure which player Boston is targeting, but that player could be the missing piece to their journey to win it all. Another option could be for the front office to surround their star duo with decent role players with their new cap space.
Also read: NBA Rumors: Grant Williams attracting attention from several teams across the league
Edited by Joseph Schiefelbein

#Grant #Williams #signing #Mavericks #3team #deal #NBA #fans #crazy #League #shattering