Dustin Poirier recently expressed his admiration for Robbie Lawler, labeling him as a true legend of the sport.
In response to a video in which Lawler discussed his retirement decision, Poirier reacted:
"🫡 Legend"
Former UFC welterweight champion Robbie Lawler is nearing the end of his illustrious career and has one final fight ahead of him at UFC 290. 'Ruthless' is set to face Niko Price in his 25th appearance inside the UFC octagon, taking place as the feature preliminary bout at the T-Mobile Arena in Las Vegas.
Poirier's poignant and concise response to Lawler's retirement has sparked a flurry of discussions among passionate MMA fans.
One fan remarked:
"You're a legend too."
Another urged UFC president Dana White to move UFC veteran's fight to the main card of UFC 290:
"@danawhite put this man on the main card"
While another fan claimed Dustin Poirier and Robbie Lawler as the best boxers in the UFC:
"you and Lawler are the best boxers of all time "
One fan wrote:
"2 guys cut from the same cloth, in and out of the octagon"
Check out some more reactions below: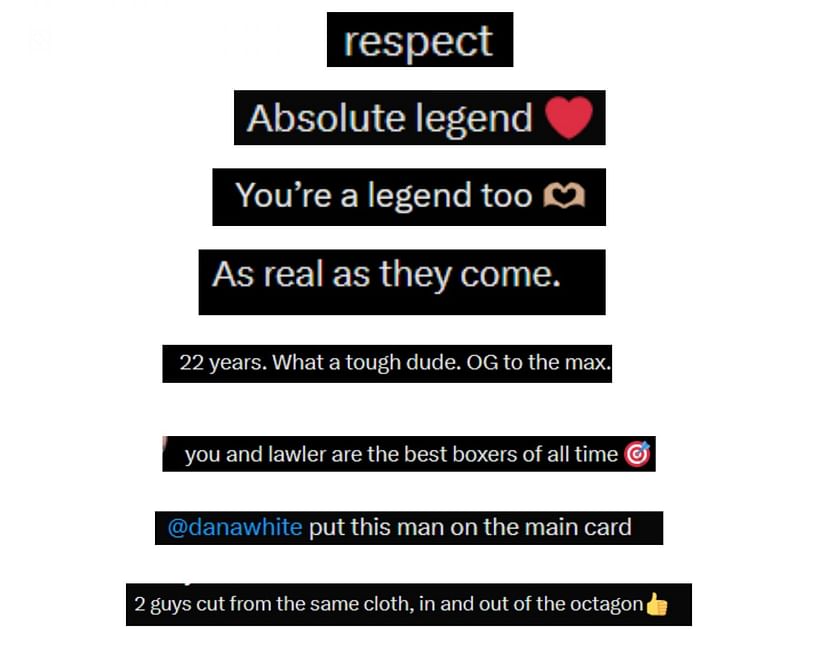 ---
Dana White discusses how Dustin Poirier vs. Justin Gaethje 2 became the BMF championship bout
UFC President Dana White has expressed his belief that the highly anticipated rematch between Dustin Poirier and Justin Gaethje, set to headline the UFC 291 card in July, epitomizes the essence of the BMF (Baddest Motherf***er) title.
White recently unveiled this exciting matchup for the promotion's return to Salt Lake City, Utah on July 29, and revealed that the decision to put the "gimmick" title on the line stemmed from a recent matchmaking meeting.
During the UFC Vegas 73 post-fight press conference, the organization's top brass remarked:
"It was war room sh*t. Every Tuesday we're in there, and as we were putting that card together for Utah, we thought that Poirier and Gaethje is such an awesome fight. Masvidal retired, so we put the BMF title on the line."
Check out White's comments below:

#Dustin #Poiriers #heartfelt #oneword #reaction #Robbie #Lawlers #retirement #MMA #fans #talking